In 1998 Carla Kenyon showed up with a sharp trowel, a new blue tarp, and instructions about just how, where and when to transplant iris. The Sorority of Soil Sisterhood was born.
The group has burgeoned over the past two decades. Today, 30 or more dedicated gardeners and outdoor addicts adopt a patch of good earth, show up to hostess concerts and events, design and plant new vistas or reconstitute a vintage landscape. Master Gardeners and novices alike join forces and become friends, share horticulture secrets and family recipes.
When walking along the garden path, you might spy a label sporting one of their names, (insert photo). They're creating a renaissance through their mighty efforts – a true labor of love.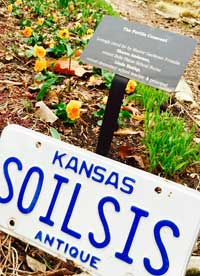 The Fraternal order of Soil Brotherhood has emerged as well. Retired industrial arts teachers, active learners and givers come in many flavors, all sizes, all ages, complete with necessary know-how. Bill keeps the small engines oiled. Charlie and David know how to swing a hammer. Rudy likes to mow. Blair can paint like a pro.
If you would like to join our not-so-exclusive group, shoot us an email. Robin says her greatest gift is discerning the gifts of others. There is a place for you here. Hurry. We are waiting.
Soil Sisters & Brothers – current (and a few retired)
Led by Mary Bartlett Gourlay, SS Emeritus
Sharon Anderson
Charlie Belew
Alice Bendinelli
Rudy Bollig
Randy Bradbury
Janie Bradfield
Bryan Brock
Madison Broddle
Jolene Burgess
Cait Carlson
Alisa Depontier
Diana Duncan
Lisa Eddy
Mike & Pat Felton
Cindi Gentry
Pam Gerber
Rosalie Hatfield
Linda & Jack Hezlep
Joe & Mary Hunt
Kathy Huschka
Catherine Johnson
Lettye Johnston
Carla Kenyon
Steve & Sally Kimball
Charolett Knapic
Connie Larkin
Connie Lent
Kathy Manske
Mike Martin
Beth McGilley
Jennifer Pettersen Melcher
Bill Mohr
Mulvane Ladybugs: Carolyn Tarr, Marty Crane, Marion LaRue-Boales, Toby Squibb
Mike Neis
Madeline Norland
Kim Oblak
Mary Oliver
Juliana Phillips
David Prilliman & Christy Cobb
Marylee Ramsey
Dakota Richardson
Stephanie & Skylii Scott
Shady Ladies: Dea Deautch, Cindy Paolucci, Ilene Wood, Bertie Rush
Gail & Randy Sommerfeldt
Liz Staciezko
Gabe Stewart
Blair & Jenny Sullivan
Bill VanderWall
Carol Wittman
Sherree Yeoman